Very special Kids Listen Sweeps "April Fool's" episode!  Host Lynn Hickernell introduces the theme word, "verisimilitude."  Features an excerpt from the podcast, "How Do We Fix It?" on the topic of confirmation bias, a "Do Over" with Emily King about "The Bully," "GET IT?!?!?" and the debut of a new segment, "Say What?!?" about the phrase, "A Wolf in Sheep's Clothing." The episode concludes with an original poem, read by Tara Bahna-Outman.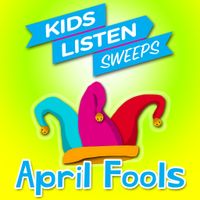 SHOW NOTES:
But Why?  Still Funny:  Why Do We Laugh? 
Short & Curly episode about using Autotune 
How Do We Fix It?  A Repair Manual for the Real World 
How Do We Fix It #23:  The Dangers of Confirmation Bias with David McRaney 
Tara Bahna-Outman on SoundCloud
Wolf in Sheep's Clothing by Lynn Hickernell 
At the foot of a hill, tending his flock, the humble shepherd worked. 
Standing eerily still, above on a rock, the hungry wolf lurked. 
In order to remedy his malnutrition 
He couldn't arouse the young shepherd's suspicion 
With devious skill, eyes like a hawk, the clever wolf smirked. 
Some stuff caught his eyes where the rock face was split; the wolf devised a plan. 
It was just the right size required to outwit the beasts, and then the man. 
An abandoned old sheepskin, battered and woolly, 
Adjusted until it enveloped him fully, 
At last his disguise had been perfectly fit; he breached the ovine clan. 
He went undetected, awaiting his gluttony, 'neath the fleecy coat, 
When the flock was collected that evening and put in its pen, he had to gloat. 
Though the wolf had devised it, and plotted quite shrewdly 
His costume was so verisimilitudely 
The shepherd selected him, thinking him mutton, and cut his fluffy throat.
©2019 Lynn Hickernell